Hey Listeners!
Did you know that all of our lessons, lesson notes, progress tracking and premium tools are available on your smartphone or mobile device? Well, they are! With our Innovative Language 101 App, you can study Thai on-the-go wherever you want!
Getting on the fast-track to learning Thai is THAT simple!
Want to switch from the app to your computer and continue where you left off? You can! Our system is fully integrated!
Download the App for FREE to your Android, iPhone, iPad or Kindle Fire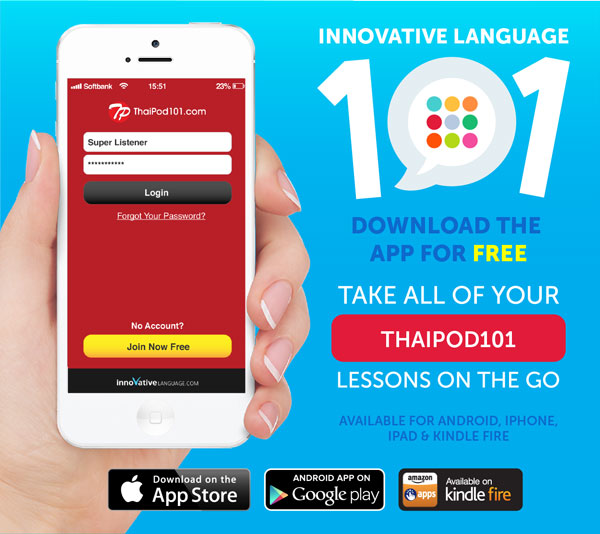 Click here to download the App for FREE & learn Thai on the go!
What's Inside The Innovative Language Learning 101 App:
New Users – Try It Free: Start your 7-Day Free Trial! 7-Day Free Premium Trial for new users with easy registration sign-up and easy in-app upgrading
Existing Users – Sign In Now: Convenient Basic and Premium login and profile access for existing ThaiPod101 website users
Download Manager for Offline Study: Hands down, the easiest way to listen on-the-go! Download any lesson you have access to with your account and listen offline from your Library
Upgrade In-App: This is upgrading made easy. In-app purchasing of Basic, Premium and Mobile-only subscriptions available. (Kindle Fire users will be redirected to the ThaiPod101 website to upgrade)
Full Language Library: New and archived audio and video lesson access covering the Absolute Beginner to Advanced levels
Innovative Lesson Tools: You get PDF notes, Line-By-Line Transcripts and Vocabulary Lists with audio (Requires active 7-Day Free Trial, Basic or Premium Account). Mobile-only users also have access to these features
Multiple Playback Options: Stream lessons over or download an entire series to study offline, on your own time
Fully Integrated Learning System: Your lesson progress is synced between our websites and the App so you never lose momentum
Personalized Learning: Curate your own learning plan in My Library. You pick and choose the lessons you want to study
iCloud Sync: Never lose your lesson progress. If you close a lesson, you can return to it and continue where you left off in the lesson with iCloud Syncing. (Not available for the Android App)
Exclusive Discounted In-App Subscription upgrades for mobile users
Quick Customer Care: Easily report feedback and errors and contact our friendly customer support team from within the App
Click here to download the Innovative Language 101 App for FREE!
Learn Thai anywhere with ThaiPod101!
To your fluency,
Team ThaiPod101
P.S. Want to try another language? Did you know that our Innovative Language 101 App is available in 31 different languages? Choose from any of our 31 Innovative Language sites and take your language learning on-the-go!
Click here to download the App for FREE & learn Thai on the go!