Would you be willing to give up your guiltiest pleasure for three months?
Well, each year in Thailand, the Buddhist monks and other followers of Buddha's teachings do just this. The first day of this three-month period is a holiday called Buddhist Lent Day, and this is what we'll be talking about in this article!
Let's get started.
1. What is Buddhist Lent Day?
This holiday marks the beginning of the Buddhist Lent, which is a three-month period during which monks are expected ระมัดระวัง (
rá mát rá-wang
), or "to be careful," not to venture outside the temple or pagoda.
This three-month period ends on End of Buddhist Lent Day, which is another Buddhist holiday that we'll be covering in a future article.
If you're familiar with Christian Lent traditions, you may find a few similarities while reading through this article!
Buddhist Lent Day History
In Thailand, Buddhist Lent Day got its start during the Buddha era.
Monks of this time period
had a mission to spread Buddhist teachings to as many places and people as possible. However, this constant traveling caused problems during the rainy season, with people complaining that the monks would walk through and ruin their crops.
Hearing of this, the Buddha made a new ระเบียบ (
rá-bìiap
), or "rule," that monks were not to leave their temples for the three-month period of the rainy season. The only exception was if a monk had important กิจธุระ (
gìt thú-rá
), or "business," that needed to be taken care of right away. In that case, a monk could leave the temple but was not allowed to spend more than seven nights away.
2. Buddhist Lent Day Dates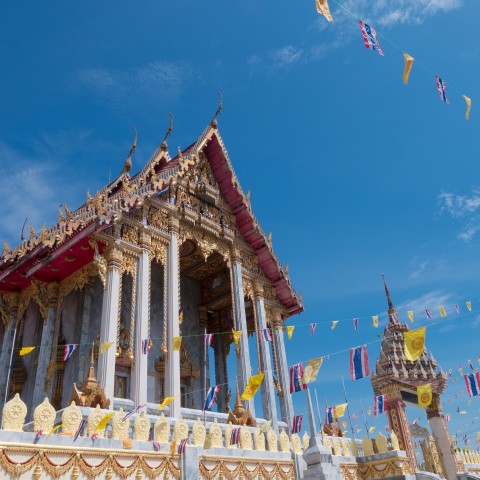 The date of Buddhist Lent Day varies from year to year, as it begins in the eighth
Buddhist calendar
month. For your convenience, here's a list of this holiday's date for the next few years.
2020: July 6
2021: July 25
2022: July 14
2023: August 3
Also be sure to see our list of the
Top Five Important Dates During the Thai Calendar Year
!
3. Buddhist Lent Day Activities & Traditions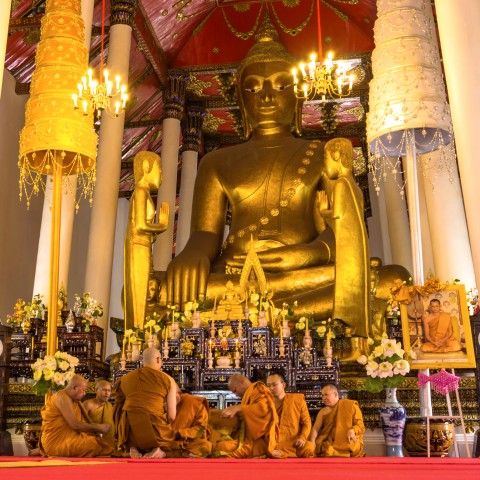 The Thai Buddhist Lent Day is largely a time for monks to prepare for their three months of solitude. They're expected "to say prayers to Buddha," or ทำวัตร (
tham wát
), and carefully observe all of the พุทธบัญญัติ (
phút thá ban-yàt
), or "Buddhist rules." In addition, it's very common for men to have a งานอุปสมบท (
ngaan u-bpà-sŏm-bòt
), or "
ordination ceremony
," to become monks during the Buddhist Lent season.
The rainy season generally provides the perfect สภาพอากาศ (
sà-phâap aa-gàat
), or "weather condition," to stay inside and study. For this reason, men will sometimes visit the temples to be taught
Dharma
.
Throughout the Buddhist Lent, Thailand's non-monk population also gets involved. For the general population, this means attempting to rid themselves of อบายมุข (
a-baai-ya-múk
), or "all vices," (or sometimes only one or two, such as drinking alcohol or killing animals). This is also a time to repent of บาป (
bàap
), or "sin," in one's life.
For Buddhist Lent Day, Thailand's most famous activity is the Candle Festival. This tradition began a long time ago, before electricity was available for lighting. Because monks often had to perform their rituals in the mornings and evenings, Buddhists would make large candles for their local temple and offer these candles to monks in their area. Before handing over the candles, though, they would parade around the town with them.
Today, there are sometimes competitions to see who can carve the best decorative Lent candle.
These candles are massive
and so awesome to see!
4. Exceptions to Buddhist Lent Rules
You may be wondering when a monk can leave the temple without being in การฝ่าฝืน (
gaan fàa fǔuen
), or "violation," of the Buddhist Lent rules.
As mentioned earlier, a monk can only leave the temple during this time for very important business. Here are some examples of when it would be okay for a monk to leave:
Taking care of other sick monks or parents
Convincing novices who want to leave the religion to change their mind
Carrying out essential monkhood duties
Accepting an invitation to make merit somewhere else
5. Essential Buddhist Lent Day Vocabulary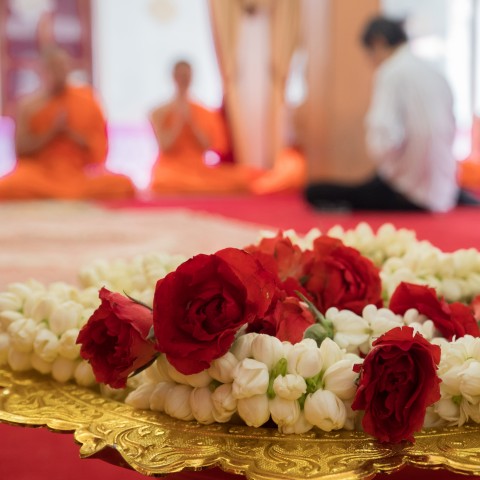 Here's a quick list of some of the vocabulary words and phrases from this article!
บาป (bàap) — "sin"
อบายมุข (a-baai-ya-múk) — "all vices"
ตั้งใจ (dtâng jai) — "to intend"
นิมนต์ (ní-mon) — "to invite (monk)"
บิดามารดา (bì-daa maan-daa) — "parents"
การฝ่าฝืน (gaan fàa fǔuen) — "violation"
ลวดลาย (lûuat-laai) — "design"
ทำวัตร (tham wát) — "to say prayers to Buddha"
แห่ (hàae) — "to throng"
สภาพอากาศ (sà-phâap aa-gàat) — "weather condition"
งานอุปสมบท (ngaan u-bpà-sŏm-bòt) — "ordination ceremony"
วันเข้าพรรษา (wan khâo phan-săa) — "Buddhist Lent Day"
อนุญาต (à-nú-yâat) — "to allow"
ระมัดระวัง (rá mát rá-wang) — "to be careful"
วันแรม (wan raaem) — "waning moon night"
พุทธบัญญัติ (phút thá ban-yàt) — "Buddhist rules"
ตำหนิ (dtam-nì) — "to reprimand"
ระเบียบ (rá-bìiap) — "rule"
กิจธุระ (gìt thú-rá) — "business," "work"
You can hear the pronunciation of each word by logging in to our
Buddhist Lent Video Culture Class lesson
!
Final Thoughts
Buddhist Lent Day is a major occasion in Thailand, both for monks and the general population.
Are there any special religious days like this in your country? If so, how do you or your country's religious leaders observe it? Let us know in the comments!
To continue learning about Thai culture and the language, read some more free articles on
ThaiPod101.com
:
Stay safe out there, and keep studying with ThaiPod101. 😉