If you've ever been to Thailand, you may have found yourself quickly becoming enthralled with the Thai culture. The culture of Thailand features some very distinct qualities that set it apart from Western culture. From the warm, friendly, and open smiles of its people to the national religion of Buddhism, Thailand will inspire any visitor to learn more about the Thai culture, people, and language. 
Before we dive in, how about a quick fun fact? There is a special Thai greeting called ไหว้ (wâi) that you won't find in other cultures. To perform wai, hold your hands together and bring them up to just under your chin. Once your hands are in position, give a slight nod. Wai is the Thai equivalent of saying hello, goodbye, or any other greeting. 

Of course, there is much more to Thai culture that you should know. On this page, we'll give you all the information you need to avoid Thai culture shock and learn more about Thai culture and traditions.
Table of Contents
1. Values and Beliefs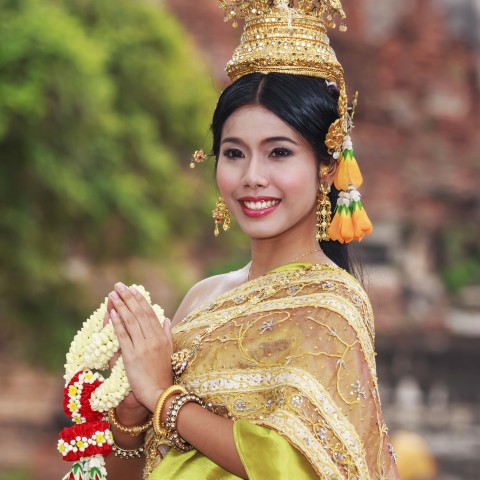 Let's learn more about Thai culture and traditions.
To understand the behaviors and worldviews of Thai people, you need to be aware of the traditional Thai values and beliefs. There are two in particular that play a huge role in our daily lives. 
A- Social Hierarchy
Although Thailand has not been governed by an absolute monarchy for over a hundred years now, there is still a social hierarchy in the country. Thai people pay more respect to certain groups of people, such as the royal family and monks. Also, Thai people are taught to respect those who are older than themselves as well as their benefactors (parents, teachers, etc.). So don't be surprised when you see the degree of respect shown in our interactions with elders and parents! 
B- Collectivism 
Thailand is often called "the land of smiles" because Thai people always seem to have a smile on their face. While it's true that Thai people are friendly, visitors will be surprised to find out that a smile does not always equate to happiness. Different smiles can mean anything from pleasure to anger, and most of the time you won't be aware of any negativity. This is because Thai culture values avoiding conflict and "saving face." 
The reason behind this is that Thailand is a collectivist society. If you're in Thailand long enough, you may start to notice that Thai people tend to go along with others when doing group activities. This is because Thai people want to be like others and remain as part of the group. As a result, they don't dare to voice their opinions in front of others and prefer to compromise instead of really solving problems.    
2. Philosophies and Religions
In addition to smiles, Thailand is well-known for the Buddhist statues found all over the country. Buddhism is the national religion and over ninety percent of Thai people practice it. It's common to see Buddhist monks in traditional robes walking just about everywhere you go. 
If you truly want to learn Thai, getting acquainted with the basics of Buddhism is not a bad idea. Of course, you don't have to convert to Buddhism to master the language, but a good knowledge of the religion will go a long way toward understanding the country.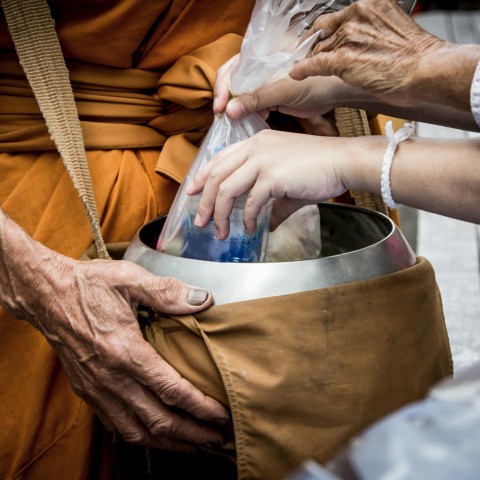 Buddhism is the dominant religion in Thailand.
As you can guess, most Thai philosophies are influenced by Buddhism in one way or another. However, modern Thai culture is one of diversity. As Thai people are quite open-minded, they are also influenced by other religions and beliefs to some extent.  
Because there are many Thai-Chinese in Thai society, there are many practices influenced by Taoism and Confucianism. One example of this is the Vegetarian Festival, which is celebrated during October each year. This popular food festival is mainly celebrated by the Thai-Chinese, though the rest of the population also gets in on the action. Another Thai-Chinese custom is เชงเม้ง (cheeng-méng), when they pay respect to deceased ancestors. 
3. Family and Work
Family and work are integral aspects of society, no matter where you are in the world. In this section, we'll discuss the essential features of Thai workplace culture and the Thai family. 
A- Family
The Thai culture is very family-oriented. In the past, it was common for Thai people to have large families.  Grandparents got to see their grandchildren, nieces, and nephews on a daily basis, as family members all lived in the same area.
Of course, things have changed over time. While you may see this type of big family in the countryside, it's not very common in urban areas. Still, Thai families share a strong bond. Despite not living in the same area, family members often meet with each other or communicate via other means. This Thai value has played a large role in shaping the modern Thai society. The importance of family in Thai culture is also reflected in the various Thai words used for family members.
The concept of ความกตัญญู (khwaam-gà-than-yuu), or "gratitude," is another thing that reflects Thailand's family-oriented society. Because our parents raised us, it's very important to take care of them when we grow up. Thus, Thai people won't send their elderly parents to care centers unless they're really sick. Doing so would mean that they don't care for them.
Now let's discuss a final point about family: marriage. In the past, men could have many wives but nowadays Thai people only practice monogamy. Despite this step forward, there are still some cultural elements that reflect gender inequality. For example, Thai women are pressured to get married earlier than men. While it's fine for a man to be single in his thirties, this is not the case for women. On the other hand, a man has to pay a 'bride price' to a woman's parents in order to marry her.
B- Work
Thai people are chill by nature and love to have fun. To some extent, this characteristic is reflected in the business world as well. If you ever decide to work in Thailand, you'll find that Thai people aren't very punctual in their work. Also, the work atmosphere tends to be less stressful than those in other countries.
Most Thai people work solely to make a living, not to do things they love or are passionate about. The Patronage system, which was a prominent feature in how Thailand was once governed, also plays a role in our work environment.
4. Art
Several aspects of the Thai culture and heritage feature heavily in our artwork, with many of our most popular paintings and sculptures having roots in Buddhism. For example, you can find various paintings of Buddhist stories in the temples and Buddha statues are viewed as an artform as well as a religious symbol. 
Thailand is also home to several impressive architectural feats, most notably our temples. In the past, temples were not only places for practicing religion, but they also served as the royal family's palace. Because the temples in Thailand reflect this aspect of history, their extreme beauty should come as no surprise.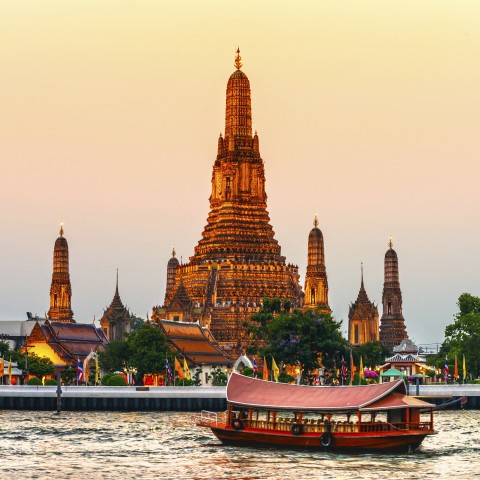 Beautiful Thai architecture
Earthenware is another outstanding Thai artform. While temples are related to religion, this type of art is more ordinary in nature. A famous type of earthenware is called "celadon ware," or เครื่องสังคโลก (khrûueng-sǎng-khá-lôok). It originated in Sukhothai province during the Sukhothai Era.
As for literature, Thailand is known for its poetry. There are various types of poems written in the Thai language, many of which focus on storytelling. These poetic 'stories' are diverse, covering a range of genres from religion and fantasy to love and food.
Thailand boasts a range of musical instruments and styles. In Thai culture, music is a huge part of daily life and is also incorporated into special events. For example, Thai people like to sing a song called เพลงรำวงเกี่ยวข้าว (phleeng-ram-wong-gìiao-khâao), or "Harvest Song," during the harvest. This is also a great example of their fun-loving nature, as they love to sing and dance even during work.
5. Food
Nowadays, Thailand is well-known for two things: its beautiful travel destinations and its delicious cuisine. Indeed, Thai food and culture go hand in hand. There's even a special Thai phrase that ties into this topic:
ในน้ำมีปลา ในนามีข้าว" (nai-nám-mii-bplaa nai-naa-mii-khâao)
Literally meaning, "There are fish in the water and rice in the rice field," this saying has been used since the Sukhothai Era to describe Thailand's natural richness. From the past until now, Thailand has never lacked food. If you visit Thailand, you'll be able to find food 24/7.  

Thai cuisine is known for its use of herbs and deep flavors, as well as its beautiful and colorful presentations. As mentioned earlier, Thai people are quite open-minded. This means you'll find many Thai food items that have been influenced by foreign cuisines. For example, Thai sweets that use egg as an ingredient are the result of Portuguese influence.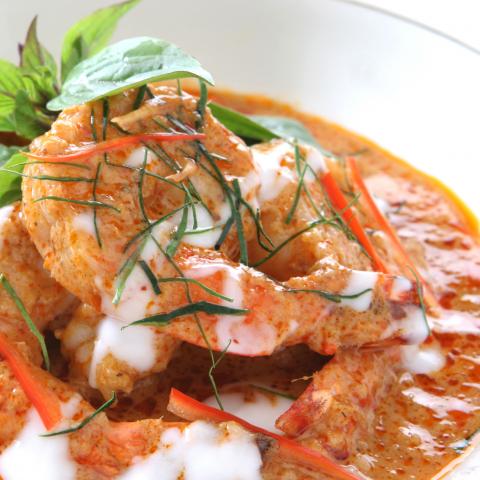 Thai food is tasty and full of herbs.
6. Traditional Holidays
When it comes to traditional Thai holidays, there are two that stand out from the rest: วันสงกรานต์ (wan-sǒng-graan) and วันลอยกระทง (wan-laauy-grà-thong). 
A- วันสงกรานต์ (wan-sǒng-graan)
วันสงกรานต์ (wan-sǒng-graan), or the Thai New Year, takes place from April 13 to April 15 each year. During this holiday, Thai people go back to their hometown to visit their parents or travel with family. 
Popular วันสงกรานต์ (wan-sǒng-graan) activities include visiting temples to make merit and building pagodas made of sand and flowers. Thai people also รดน้ำดำหัวผู้ใหญ่ (rót-nám-dam-hǔua-phûu-yài), which is an activity to show one's gratitude, ask for forgiveness, and get a blessing from one's parents or grandparents. 
These activities clearly reflect the family-oriented society of Thailand.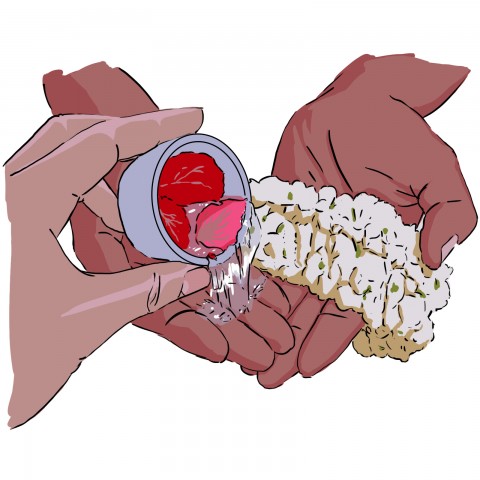 รดน้ำดำหัวผู้ใหญ่ [rót-nám-dam-hǔua-phûu-yài]
In addition to the activities above, Thai people also play with water during this period. This is because วันสงกรานต์ (wan-sǒng-graan) is not only the solar new year, but also the hottest time of the year. Family gatherings and water games make วันสงกรานต์ (wan-sǒng-graan) a colorful holiday that foreigners and natives alike look forward to.
B- วันลอยกระทง (wan-laauy-grà-thong)
The history of วันลอยกระทง (wan-laauy-grà-thong) dates back to the Sukhothai Era. On this day, Thai people engage in certain activities to ask forgiveness from พระแม่คงคา (phrá-mâae-khong-khaa), the goddess of rivers. Thai people make กระทง (grà-thong), or "lotus-shaped boats," from banana tree leaves and flowers and float them down the river.  

Nowadays, วันลอยกระทง (wan-laauy-grà-thong) is one of the most popular holidays in Thailand. There are many activities you can do on this day: observe the beautiful scenery at night, see women dressed in traditional Thai clothing, experience the beauty of Thai dancing, and much more.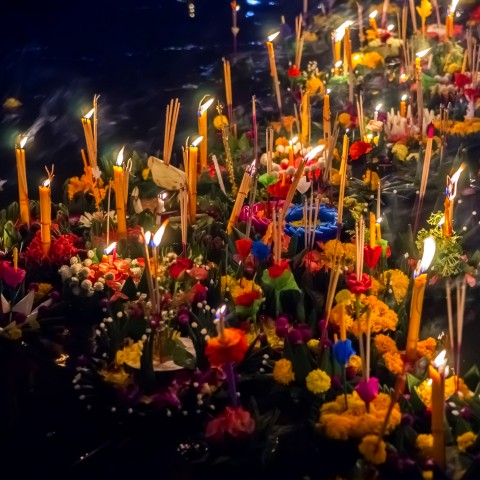 Let's ลอยกระทง [laauy-grà-thong].
7. Conclusion
Learning about Thai culture and society is a good way to complement your language studies. In doing so, you'll gain a deep appreciation for the language, and may even be inspired to take your studies further. 
If you're looking for a language course, our Thai podcast lessons and other learning materials may be just what you need. At ThaiPod101.com, we understand that busy individuals may find it hard to fit study time into their hectic schedules. That's why we offer additional tools—such as themed vocabulary lists and a Thai-English dictionary—to help you learn Thai more quickly. In addition, you'll find a number of articles related to Thai culture topics such as traditional clothing, history, and food. In short, we make learning Thai easy and fun!
Actually, the language itself is a great representation of Thai culture and values. In each of our lessons, we combine grammar and vocabulary points with practical cultural information. To get a taste of our teaching approach, create your free lifetime account today and check out our lessons for yourself. Our content will prepare you both linguistically and culturally for a range of daily situations, from talking about your pets or discussing your hobbies to planning a date! 
Before you go, let us know in the comments how Thai culture compares to that in your country. We look forward to hearing from you!